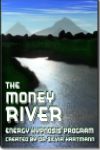 Our sister site Hypnodreams.org has been inundated with requests for a "magic money hypnosis" program.
So we have requested one, and it is now available: The Money River.
Release your money stress, let the Money River wash away your money sins, and emerged refreshed, recharged, calm, cool and READY FOR ACTION!